Mio Destino brings you new brand Cuddl Duds, offering the best choices of loungewear and sportswear to keep you cosy and comfy this winter.
Crafted from super soft modal rayon, the Cuddl Duds Softwear collection makes a great choice for comfortable loungewear. Choose from a tank top or long sleeve top and match with coordinating leggings to make a great set, ideal for relaxing weekends or cosy evenings in.
Mio Tip: The leggings waistband features no bulky fastenings, which makes them a great option to wear for Yoga or Pilates. They will feel soft and smooth, especially during the floor exercises, and allow you to complete your regime comfortably and safely.
We cannot get enough of these fabulous prints. The Cuddl Duds fleecewear collection is both fun and super cosy for a happy winter ahead. The spandex blend fabric is stretchy, providing you with great fit and easy movement. The hooded tops feature a zip at the neckline and a thumb hole at the sleeves, keeping you warm at every inch!
Mio Tio: The tops are ideal for layering, and with added stretch they can easily fit over your daily outfits when you need to venture into the cold!
Work out in style with the Cuddl Duds Flexfit collection. Soft, stretchy and lightweight these tops and leggins are ideal for the active lifestyle, making your daily workout a comfortable experience. The Comfortech® fabric helps to maintain your body heat, making them ideal to wear through the winter months.The flat seams also help to reduce chafing with repetitive movements.
Mio Tip: Do not be nervous to mix and match with this collection. Put a dark blue top with light blue leggings to customise your look to your linking.
Flexiblity and comfort are the main aims of the Cuddl Duds Sport Layer collection. The spandex mix fabric allows them to be stretchy, whilst the rear mesh panel helps to regulate your body temperature and keep you cool during your exercise.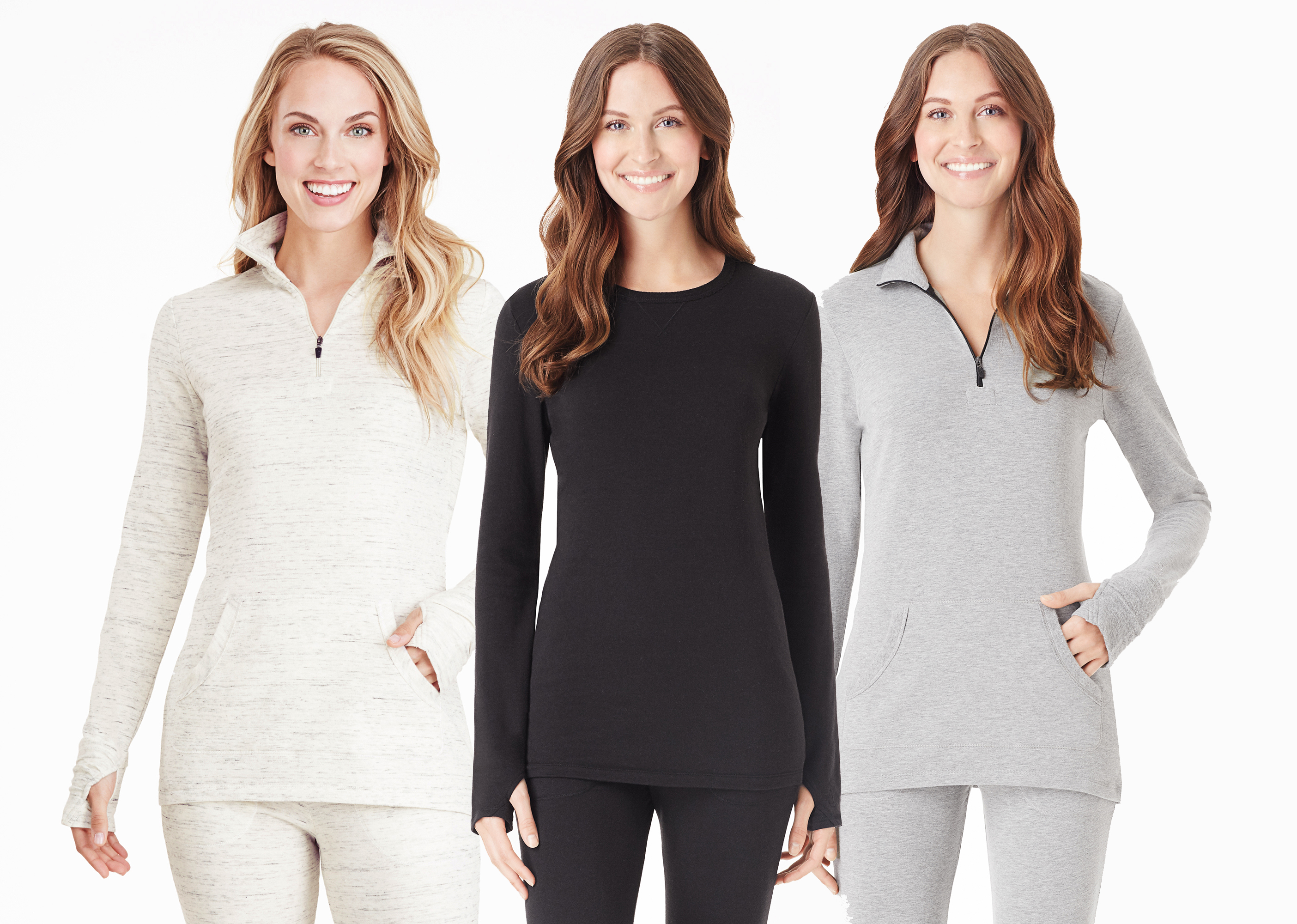 The gorgeous Cuddl Duds Comfortwear collection comes in classic shades ivory, black and grey. They are a perfect choice for winter layering. This particular collection is brushed inside for a wonderfully soft touch, and the fabric is flexible and stretchy for comfort and easy movement.
Mio Tip: To add some colour to your look, try matching you favourite winter scarf with the zip-up hooded tops. They will easily tuck in to the top and can be tightened into place with help of the zip.