As the chilly weather approaches, keep warm and comfy in some soft, cosy thermals from gorgeous brand BlackSpade. Crafted from fabrics that feel luxurious against your skin, these thermals are a great choice to wear for bed or under you clothing to help you enjoy the wintery months ahead.
BlackSpade offers a variety of thermal tops and bottoms with level one or two thermal rating. Each item is also available in black or white for your preference.
Designed for both men and women, the BlackSpade Active collection has a thermal rating level of 2. It is a great choice to wear through the winter or if you are travelling to colder climates.
MioTip: It is also suitable for outerwear when exercising outdoors. The collection is cleverly crafted so that the stitching is on the outside of the garment and does not chafe your skin or cause any irritations when exercising.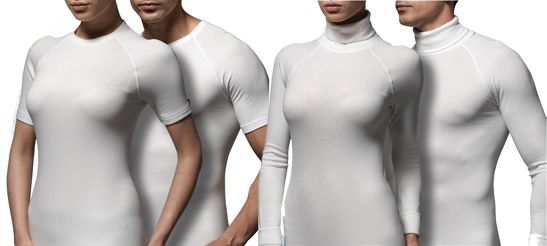 BlackSpade All Seasons Thermals
BlackSpade All Seasons collection is lightweight and soft. It has a thermal rating of 1, making it an ideal extra layer for under your clothing on chillier days. The heart-shaped pattern in the fabric gives a feminine finish.
Whether you're jetting off to a snowy resort, off for a wintery walk or looking for some extra warmth at nights, make sure you're wearing your BlackSpade Thermals to help you through the chill! Browse the collection at Mio Destino.